Subhanallah. This and other old "irama padang pasir" (desert melodies) had been playing at the back of my mind for many years now. The instrumental music used to be played over RTM radio in the 1960s, several minutes before "buka puasa" (Ramadhan breaking of fast) when I was a kid living with my grandparents, uncles and auntie in Jerteh, Terengganu.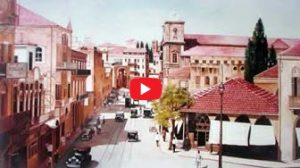 Tonight, I had an inspiration to search YouTube, using keywords "irama padang pasir instrumental". One of the results caught my eye – "InstrumentalArabLama", a collection of 22 videos for which the uploader on Jul 16, 2009 wrote:
"Kelembutan alunan musik yang mententeramkan jiwa dan perasaan kita. Irama musik arab yg asyik sekali…….Dari Album Arabian Night conducted by Sir Ron Goodwin"
(Soft musical tunes that soothe our mind and soul. Mesmerizing Arabian musical melodies…From the Arabian Night album conducted by Sir Ron Goodwin)
I would like to share "Ron Goodwin's Old Beirut". The other tunes are also highly recommended – Return To Paradise, Arabian Night, Bazaar, Wedding Dance, Farewell To Lebanon, Journey To Damascus.
I trust my school and hostel friends and many here would also find the tunes soothing, enjoyable and bring back gigabytes of memories.