One of the things that I look forward to Sundays are the Takluk Jagat series by Zoy in Berita Minggu, Malaysia's Sunday paper. Takluk Jagat was a legendary Malay "pendekar" (warrior), perpetually clad in black with a red headband. He was a master in armed and unarmed combats, and equally adept at fighting in spiritual realms. And yet Takluk Jagat was a very humble man, always traveling unarmed and always stopping to help people terrorized and oppressed by local tyrants and their minions. After helping them he consistently declined any sort of reward, apart from accepting some provisions to help him move on to his destination.
I have been following Takluk Jagat's travels for many years, and since February 2011 started collecting jpeg version of his weekly exploits. As long as I can remember, Takluk Jagat's mission was to travel to Samudera Pasai, an Islamic sultanate on the shores of northern Sumatera, in what is now part of Indonesia. The Pasai Sultanate reigned for 254 years from year 1267 to 1521. So Takluk Jagat's story was ancient, and if we assume it to be in the middle of the Pasai Sultanate's reign, around year 1390s, the story would now be well over 600 years old.
February 2011 unfolded the story of Takluk Jagat witnessing Pendekar Kaisah, a sword warrior clad in white, finishing off four minions of Iblis Tujuh Nyawa, a tyrant said to have seven lives and calling himself the equivalent of Devil With Seven Lives.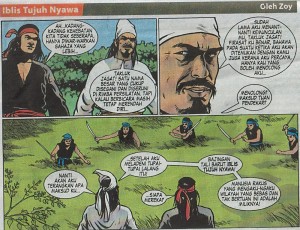 Pendekar Kaisah then told Takluk Jagat that he had killed Iblis Tujuh Nyawa four times, but the Devil gets stronger after each fight. In the fourth fight Pendekar Kaisah barely made it alive, and he feared that he could not continue much longer, and appealed to Takluk Jagat to continue the war with Iblis Tujuh Nyawa, who now have three lives remaining. True to his nature, Takluk Jagat agreed to postpone his travel to Samudera Pasai and help Pendekar Kaisah.


In July 2012, after 77 weekly episodes, Takluk Jagat managed to defeat Iblis Tujuh Nyawa, not killing him but rendering him totally paralyzed during an epic battle, and if the Devil could last three days he would recover but become handicapped and weak because all his nerves had been damaged during battle. In the last episode it was revealed that Iblis Tujuh Nyawa was not one person with seven lives, but just seven equally evil brothers, making the lore of one person with seven lives.
Takluk Jagat then sailed the Malacca Straits in a derelict sailboat, towards his destination Samudera Pasai.
Thus a new chapter in Takluk Jagat's voyage unfolded in July 2012. After sailing  the sea for a long time, Takluk Jagat decided to stop at an unknown island to rest and pick up supplies before continuing his journey. It turned out to be a very long stop, 99 episodes' long, which only ended in June 2014. That was his story in Jebak Pulau Laga (The Trap of Fight Island).
After his mission on Pulau Laga, Takluk Jagat continued on towards Samudera Pasai, on a merchant sailing ship. Evil was everywhere, even on a ship in the middle of the ocean. Based on his track record, I believe Takluk Jagat would be on that ship fighting the crooks for many more episodes in the weeks to come 🙂
Every Monday or Tuesday or whatever day until the week's episode was published, no matter where in the world I was, I would eagerly visit the site chronicling Takluk Jagat's voyages. Takluk Jagat was traveling from somewhere in South East Asia to Samudera Pasai, whereas yours truly have been known to follow his exploits from faraway places such as Beijing, Qingdao, Changsha, Shenzhen, Hong Kong, Busan, Tokyo, Fukuoka, Sendai, Sapporo, Manila, Bangkok, Jakarta, Bandung, Batam, Singapore, Sydney, Perth, Mumbai, Colombo, Muscat, Abu Dhabi, Amman, Istanbul, Paris, Brussels, Rome, Trieste, London, Falmouth, Aberystwyth, Carlisle, Perth (Scotland), Oslo, Rognan and Eatontown (New Jersey).